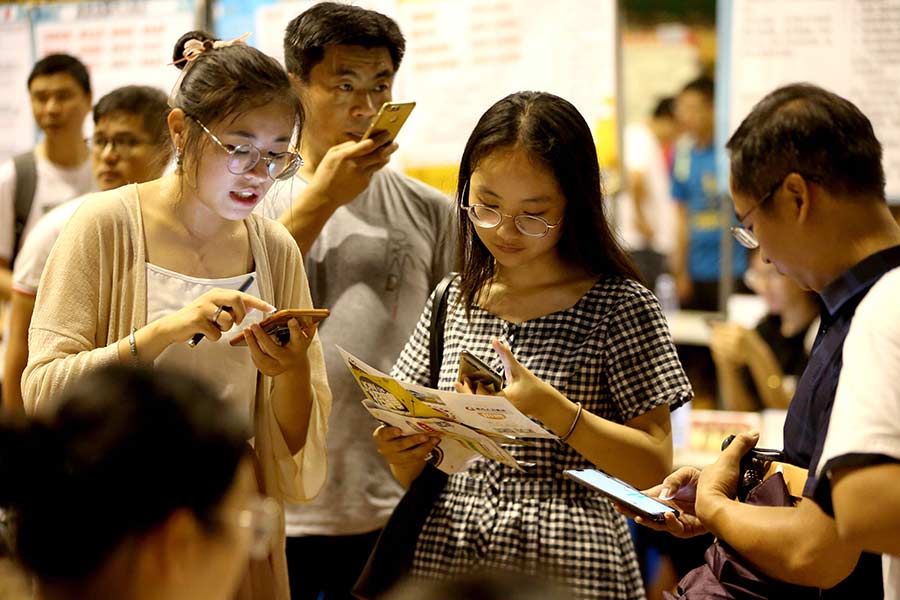 Job hunters look for the right positions at a job fair in Huaian, Jiangsu province, on Aug 10. [Photo by Zhang Zhaojiu/For China Daily]
China's efforts to embrace an era of innovation-led growth have prompted global companies to become more flexible and adept with their new business requirements and approach to remain competitive in the country.
Indications are that such a shift is already happening as multinational companies are no longer focusing on just sourcing top professional talent from outside, but also deploying more resources to enhance the skills of their employees through multi-job training, overseas mobility, talent cultivation and incentive programs.
With China's economy changing from high-speed growth to high-quality development, Schneider Electric China has started to enhance digital innovation and created new momentum for the company's development, said Zhang Yanyan, senior vice-president for human resources at the company.
"As the business transforms, we have developed new initiatives at the strategic level of human resources by establishing a comprehensive digital talent strategy," she said, adding it includes mechanisms such as digital branding, digital talent attraction, customized digital learning, innovative incentive schemes and retention programs for digital talent.
To support all of that, the human resources management team of Schneider Electric has applied its own digital transformation in performance management, career development, incentive measures, employee engagement feedback and other processes in China, as well as building a large-size database for people analytics.
All of these initiatives are well organized based on a mature three-pillar HR model (HR business partner, shared services, and HR solutions), established in 2009 in Schneider Electric China. It helps the management set their business strategy on a daily basis, assess the required human resource needs to meet the business objectives via building and developing comprehensive solutions.
Zhang, who joined the French company in 2008, believes that anything related to the digitalization technology means a big market in China as its economy is undergoing an industrial and consumption upgrading boom, including e-commerce, artificial intelligence, data science and data analytics.
Under such circumstances, high-quality technology skills and programmers are in huge demand. The digitalization of existing industries, which is partly technology-enabled, is a massive marketplace too.
"We have to help our business units think through what they are offering potential employees to attract them as we understand them better," she said.
"Traditionally, money plays a big role in dominating candidates' decisions. But today, particularly for millennials, there are other factors as important as the level of income. They also look at career progression and people who work with them, what the company does and if the firm has a purpose that they have an affinity with," said Zhang.
"After recruiting them, our job is to build the environment for them to develop and grow, and support them whether it's through brainstorming ideas or challenging them," she said.
Sun Fuquan, a researcher at the Chinese Academy of Science and Technology for Development, shared similar views. He said with China shifting from an export-driven economy to one focused on more technology breakthroughs, having strong research and development teams in the country has become increasingly critical for global companies. There are lots of job opportunities in those areas.
Many industries are also becoming increasingly automated. This has spawned a host of technical and engineering jobs, he said. There is also a surging focus on R&D STEM-science, technology, engineering and mathematics-subjects.
After Schneider Electric established its first joint venture factory in Tianjin with fewer than 100 people 32 years ago, the French company to date has established a strong foothold in the Chinese market with 17,000 employees, three research and development centers, 23 factories and 37 regional offices across the country.
声明: 本网站原创内容,如需转载,请注明出处;本网站转载内容(文章、图片、视频等资料)的版权归原网站所有。如我们转载或使用了您的文章或图片等资料的,未能及时和您沟通确认的,请第一时间通知我们,以便我们第一时间采取相应措施,避免给双方造成不必要的经济损失或其他侵权责任。如您未通知我们,我们有权利免于承担任何责任。 我们的联系邮箱:news@cecb2b.com。