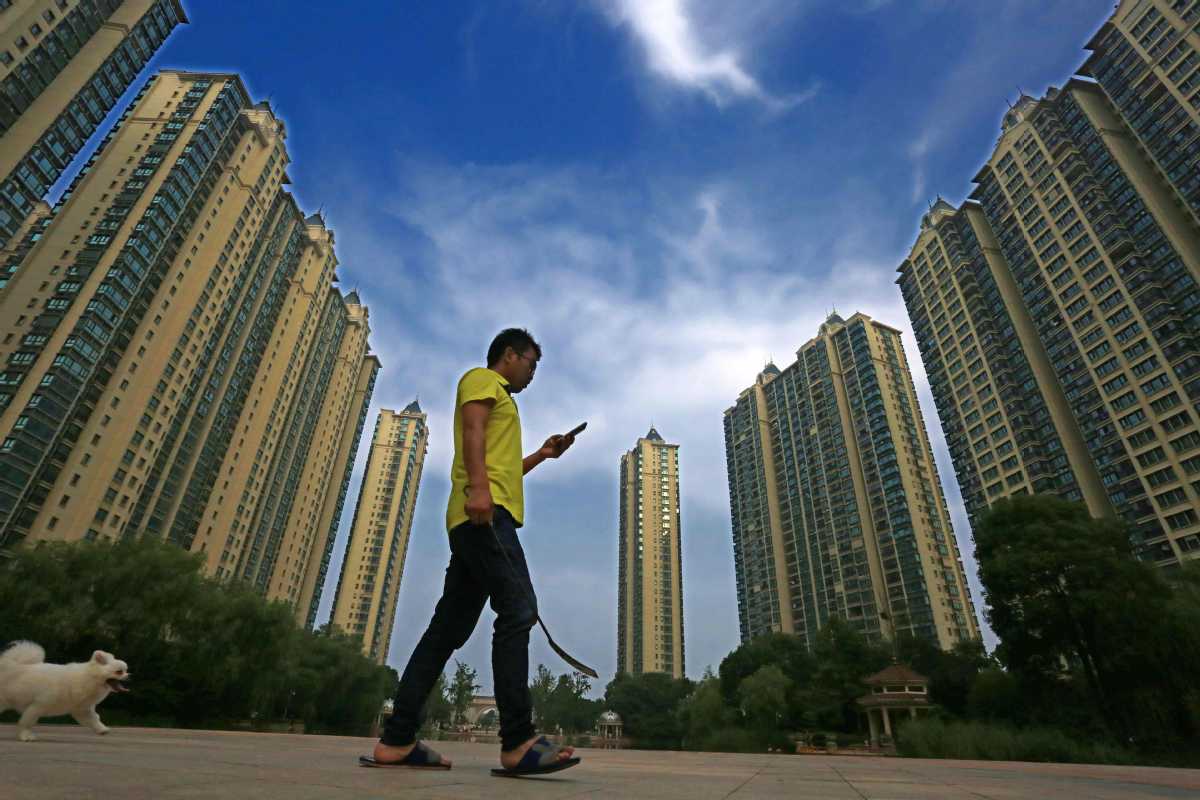 A pedestrian walks past a residential enclave in Huaian, Jiangsu province, on July 28. [Photo by Zhou Gangguo/For China Daily]
Residential realty rides tech advances, green wave, urbanization and policy supports
China's residential property market, which is still considered a key economic indicator, may appear down and out at the moment, but unexpected good tidings are adding to the buoyant mood generated by the celebrations of 70 years of the founding of the People's Republic of China.
Like the economy, China's residential property industry is transitioning from high growth to high quality. And that is a game-changer with potential long-term implications for the whole economy, experts said.
"China's property market will shift from extensive and rapid growth to more sustainable growth in the following years," said Yao Yao, head of research for JLL China, a real estate agency.
Despite factors like many top realty players missing first-half revenue targets, the government's stringent rules continuing to keep a lid on runaway prices, and financially strained investors turning cautious on new developments, the industry is all excited about the future.
It's a future that experts said will be marked by innovation. Technological advances, accelerating urbanization and rising environmental awareness among people are expected to lead to smarter and greener buildings everywhere, sparking a new long-term property revolution that would help tide over the current short - and medium-term concerns.
The future of properties will be in line with the central government's emphasis that homes are for living, not for speculative investments.
"After decades of rapid residential property development, the demand-supply situation has reached a new stage of quality development. We think the central government, property developers and Chinese people are all at a turning point as the function of real estate is being redefined," said Chen Sheng, president of the China Real Estate Data Academy.
Part of that optimism stems from the Chinese government's resolve to establish a long-term mechanism for the stability of the hitherto volatile real estate sector. The tendency to treat property as a short-term economic stimulus tool, or as a key source of local government income, or as an avenue for speculative investments is already a thing of the past, said Chen.
"To boost the economy, other tools such as tax reform, regional development, promotion of innovation, and financial opening-up are being used," said Yao.
Xie Chen, head of research with CBRE China, said, "It is a good opportunity for developers with strong credit credentials to go on an M&A (mergers and acquisitions) spree. It is also a good time to think about diversifying investments."
Such views started gaining circulation after 12 leading real estate developers, including China Vanke, Country Garden, and Evergrande, reported first-half revenues of over 100 billion yuan ($14.13 billion) each. But some among the top 10 developers failed to reach their half-year targets.
"Developers need to pay more attention to their financial resilience. Considering that the lending environment is still tight and the debt repayment peak is nearing, developers need to formulate a more selective strategy when making investments," said Xie.
Big-ticket realty investments may resume on the back of urbanization. In fact, experts expect significant growth in demand for even commercial real estate.
The current scene is enthusing not just industry insiders and external experts but consumers such as Li Shuqi, 41, a Shanghai-based white collar worker at a multinational company. She believes ordinary people have a decent chance now to buy or change homes.
Li was born in 1978 when China embarked on reform and opening-up. She is part of the lucky generation that got to witness the rapid development of China's home market.
In a shantytown in Changning district of Shanghai, Li was raised in a cubbyhole of a home that sheltered not just herself and her parents but her aunt.
"Those days, two homes were separated by a thin shelf. We could hear the neighbors if they spoke a little louder," Li recalled.
When Li turned 5, her parents moved into a 15-square-meter room in a nongtang (narrow alley).Their kitchen was outside the room. "The room was multi-functional - it was the bedroom at night, living room by day, a shower area and bathroom whenever it had to be," Li recalled.
In 1988, one of Li's happiest days arrived when she had her own bedroom and no longer had to clean the wooden toilet anymore - the new house had a flush toilet.
That apartment became Li's own after the family paid about 20,000 yuan in 1999, a year after the start of housing reform that ended the welfare housing system, creating a free market in its stead.
"The year 1998 was a milestone. Since then, real estate development has seen exponential growth and has become a pillar of the country's economy, driving economic development and enhancing residents 'quality of life," said Yao of JLL China.
"Market forces in the housing sector were a significant breakthrough and built the foundation for the fast-growing market in the coming decades," said Robert McKellar, executive chairman of Savills Asia-Pacific, a global real estate consultancy.
Agreed Li. "Over the past decade or so, my friends and relatives have been able to buy their dream homes one after another. My cousin who slept on a sofa at night for more than 20 years, finally got to move into a three-bedroom apartment in downtown Shanghai in 2009, and some even own more than one flat as they got married and have children."
After two decades of development, the average living space almost tripled from 9.7 sq m per capita in 1998 to 36.7 sq m last year, said Lu Wenxi, a researcher with Centaline Shanghai, a property consultancy. The corresponding figure was 3.8 sq m in 1950 and 4.5 sq m in 1978.
Vincent Lo, chairman of Shui On Group, said even as Chinese households benefited greatly from the housing market reform, many large-scale developers emerged. "The number of developers with total turnover of above 100 billion yuan reached 30 in 2018," said Lo during the Urban Land Institute Asia-Pacific Summit in Shanghai earlier this year.
Chen Sheng of the CREDA said that alongside improved living conditions, many Chinese developers and construction companies are growing amid global competitiveness, thanks to unprecedented urbanization.
Yang Yuechen, head of research and consultancy in Shanghai and Beijing with Knight Frank, a real estate consultancy, agreed that the real estate sector had made great contribution to efforts to improve Chinese people's living standards and toward economic development.
"However, with prices stabilizing, the sector maturing, and demand softening, the property market may gradually cease to be a key pillar of the Chinese economy in the next one or two decades," said Yang.
Some experts said the change in status has already happened. "The year 2016 was another important milestone as the central government embarked on a major shift in housing policy to 'focus on both the rental and sales housing markets'.The government's goal to build a long-term mechanism means it will promote a more sustainable development in real estate in the future," said Yao of JLL.
Agreed McKellar with Savills. "The market has been witnessing another significant change in recent years as economical housing developments, including multifamily apartments and affordable housing, are increasingly encouraged by the government. This is addressing the affordability issues that have been causing concern to lower-income families and migrants."
Li concurs with that view. "To be honest, a couple of years ago, I felt anxious to see home prices soaring so rapidly that I felt people like me may not be able to afford homes through hard-earned incomes."
She said she had dissuaded her parents from buying a new home for several years as she thought their existing flat was "good enough". But, she changed her mind after realizing the quality of life would decrease with a large sum of mortgage.
"Home ownership is one of the key milestones for many families in China, providing a sense of security and stability as well as serving as a store of wealth. Inefficient allocations of these resources and rising home prices are undesirable as such factors could limit the ability of many families to own a home, which could have socio-economic implications for the community," said McKellar of Savills.
Experts said government policy will likely ensure residential property prices plateau instead of becoming volatile again. So, homebuyers should buy within their means and not overstretch themselves. Mortgage payments should not exceed between 40 percent and 50 percent of household incomes, suggested McKellar.
"Homebuyers should be more cautious in making their decisions. They should first make a detailed plan for future 10 years or so, and choose their home accordingly," said Yang.
Given the domestic and external environments, home price rises in China will be well contained for the rest of this year and in the foreseeable future, while first - and second-tier cities, as well as other lower-tier cities, might continue to witness diverging market trends, said experts.
Rental apartments will continue to grow and become a new lifestyle for young people. "We anticipate a long-term mechanism such as property tax to be gradually in place. In addition, a more diversified financing system is expected to take shape with vehicles like REITs (real estate investment trusts), to further increase the proportion of direct financing in the real estate industry," said Xie.
He said foreign capital has been very active in investments in prime commercial real estate in major first-and second-tier cities this year. CBRE's 2019 Investors Intention Survey shows that China has become the top destination for cross-border real estate investment, and Shanghai tops the city-wise list.
声明: 本网站原创内容,如需转载,请注明出处;本网站转载内容(文章、图片、视频等资料)的版权归原网站所有。如我们转载或使用了您的文章或图片等资料的,未能及时和您沟通确认的,请第一时间通知我们,以便我们第一时间采取相应措施,避免给双方造成不必要的经济损失或其他侵权责任。如您未通知我们,我们有权利免于承担任何责任。 我们的联系邮箱:news@cecb2b.com。